Find records from the Information Bureau
Use the search box above to get started and then sort your results by name, service number, unit or type.
What are our records?
From 1916 until 1919, the South Australian Red Cross Information Bureau performed the service of undertaking research into over 8,000 enquiries from family and friends of missing Australian Imperial Force personnel fighting in World War 1.
Documentation produced and received in the process of making these enquiries are included in the 'packets' of records that can be searched and viewed on this website.
South Australian Red Cross Information Bureau
Featured Stories
Private Daniel Henry Hanley was shot, depite carrying a white flag, while attempting to retrieve a badly wounded comrade.
Four brothers from the same family enlisted within months of each other and served together in the 12th and 52nd Battalions. Only one returned to Australia.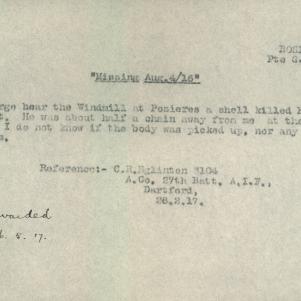 Private Russell George Bosisto was killed in action at Pozières on 4 August 1916. His remains were not able to be recovered and buried. However, in January 1998, a farmer unearthed the body of an Australian soldier which was subsequently officially identified as Bosisto and he was reburied on 5 July 1998 at Courcelette British Cemetery in France.